I forgot how tired I felt
when at two in the morning I was woken up by a crying baby
and a frustrated wife.
I forgot how keenly aware I was
of the sleep I was losing,
the productivity I would be sacrificing
and how much my forthcoming decrease in mental alertness would cost me.
I forgot the amount of
resent, anger, and self pity
that would build up in me
with every minute this child would lay awake in my ever weakening arms.
But I also forgot
I forgot what would happen when I would look down
and lock eyes with this child.
I forgot the amount of innocence a pair of beady little eyes could hold.  
I forgot how magically disarming that glance could be.
I forgot how quickly
all of my selfish emotions
could be replaced
by feelings of love and compassion,
and how easily all other
tasks and responsibilities
would fade into oblivion,
all other tasks, that is, besides sleeping.
I simply forgot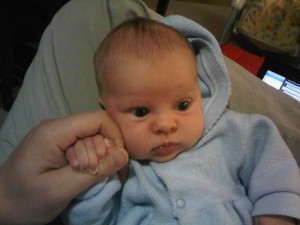 —————
I wrote this poem as I reflected on my new reality with a newborn in the house.  I also had an article published recently where I wrote about her birth story (relax, there are no graphic details).  The article was published in the local Western Wheel newspaper:
http://www.westernwheel.com/article/20130306/WHE0903/303069979/-1/whe09/birth-and-death-have-more-in-common-than-we-think